Induction and Leadership Development
At Hamilton County Schools, we are passionate about developing and retaining top talent. The Induction and Leadership Development team provides support and professional growth opportunities for all employees of Hamilton County Schools, from those just starting their journey in education to those who have dedicated their careers to helping students learn and grow. We are proud to offer a multitude of high-leverage programming to meet educators where they are and help them get to where they want to be.
New Teacher Induction
Summer New Teacher Academy (NTA) will be held from 8:30-3:30 on July 17-22, 2023. Registration will go live in April and stipends will be provided for participants pending budget approval.
Learn More
Learn about Induction Programs
NEW HIRE ORIENTATION
NEW TEACHER ACADEMY
CLASSROOM SET UP LABS
SCHOOL-BASED INDUCTION AND MENTORING
NEW TEACHER COACHING
NEW TEACHER NETWORK: DINNER & PD
WHOLE TEACHER=WELL TEACHER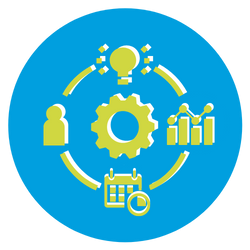 NTA2.0 COMP
NEW HIRE ORIENTATION
Take the first step in your teaching career in HCS by participating in our two-part new hire orientation that connects teachers to vital district resources. Participants have access to vital onboarding video modules via Canvas and join us for a 2.5 hour in-person follow up that includes a catered lunch, networking, and essential onboarding updates. Best of all? Our teachers receive a stipend for attending!
NEW TEACHER ACADEMY
Explore strategies to build relationships in the classroom, building, and community, dive into curriculum training by content area, and take advantage of a school-based orientation during our 5-day Summer New Teacher Academy (NTA). Participation is highly recommended for novice and veteran teachers new to our district and includes a stipend for attending!

First year teachers have the opportunity to extend this training through three additional job-embedded trainings with their cohort exploring best practices in teaching and learning, classroom management, professionalism and teacher wellness through live classroom labs and collaborative planning.
CLASSROOM SET UP LABS
Delve into teacher organization, organization of student materials, room arrangement, and utilizing wall space in hands-on, content-specific labs in veteran teachers' classrooms across the district. Participants receive a stipend for attending these half-day summer labs.
SCHOOL-BASED INDUCTION AND MENTORING
Collaborate with other teachers new to your school building with the support of a certified Site Based Induction Liaison (Lead Mentor). All teachers with 3 years or less teaching experience are also matched with a trained Support Mentor.
NEW TEACHER COACHING
Take advantage of elementary & secondary specific support provided in the following areas: observation / feedback, and side-by-side coaching sessions around classroom management and student engagement; 1:1 planning and goal setting; Project COACH guidance; and HCS procedural guidance
NEW TEACHER NETWORK: DINNER & PD
Engage in bi-monthly support sessions that offer a chance for district-wide collaboration, professional development centered on classroom management, professionalism, and teacher wellness, a stipend, & a catered dinner from a local restaurant!
WHOLE TEACHER=WELL TEACHER
Develop strategies for resiliency, awareness, adaption, self-regulation and most importantly self-compassion that help teachers thrive in and out of the classroom. Programming includes live, bi-weekly and quarterly stipend-eligible workshops and asynchronous modules of support.
NTA2.0 COMP
Participate in grade-band and content-specific cohorts to engage in activities that can be implemented in the classroom immediately in this collaborative and hands-on research-based, 18-hour COMP (Classroom Organization and Management Program) workshop. School day embedded workshops and summer, stipend-eligible workshops are offered.
Our Induction & Leadership Programs are Making a Difference
We had a 1st year retention rate of 90% for the 21-22 school year
Overall retention rate of 86% for 1st-3rd year teachers for the 21-22 school year.
2021-2022 principal and assistant principal openings filled by LEAD participants
Leadership Development
Grow your career through our LEAD programs! In Hamilton County, Leadership, Exploration, and Development (LEAD) serves as a key strategy for preparing our talent to move into school leadership positions where they will lead the charge for our mission - to accelerate student achievement.
Learn More
Learn about LEAD Programs
ASPIRING PRINCIPAL
ASPIRING ASSISTANT PRINCIPAL
ASPIRING INSTRUCTIONAL COACH
ASPIRING TEACHER LEADER
ASPIRING MANAGER
ASPIRING PRINCIPAL
The Aspiring Principal LEAD program helps interested assistant principals build on their current knowledge of school administration by preparing them with the additional knowledge and skills necessary to be an effective principal.
ASPIRING ASSISTANT PRINCIPAL
The Aspiring Assistant Principal LEAD program helps interested teachers use their current skill set to prepare for a school administrator role where they will work collaboratively with other school leaders and teachers to improve student learning and achievement.
ASPIRING INSTRUCTIONAL COACH
The Aspiring Instructional Coach LEAD program helps interested teachers use their current skill set to prepare for an instructional coach role where they will be able to work with teachers and school leaders to continually develop teacher practice to improve student learning.
ASPIRING TEACHER LEADER
The Aspiring Teacher Leader LEAD program helps interested teachers develop their leadership skills to take on a variety of school-based leadership roles and increase their impact at their schools.
ASPIRING MANAGER
The Aspiring Manager LEAD program helps HCS classified personnel build the essential knowledge and skills to take on management roles.
Ashley Cross, Principal
"Through my experience with LEAD, I learned how to really use data to analyze needs in my building and make informed decisions and next steps to address the needs. I was pressed with thought provoking questions that challenged and deepened my thinking as a leader, and I formed a personal mission statement that continues to focus the work I do each and every day as a principal."
Cora Fisher, Assistant Principal
"Being a part of LEAD afforded many growth opportunities that equipped me to take on my role as an assistant principal. With my peers in the program, we were able to reflect on the decisions leaders make that have the greatest impact on student achievement, as well as on how to lead with a clear and compelling mission and vision. We studied some of the best strategies to recruit and retain irreplaceable educators and gained a greater understanding of the impact teacher diversity has on student learning. Participation in this program has provided me with the confidence to lead in the best interest of Hamilton County students."
David Cory, Principal
"The LEAD program created the opportunity to grow both my leadership mindset and network of support with other administrators. When Hamilton County talks about growing leaders, this program is a testament to the county's dedication for equipping people to help students and staff thrive."
Jacob Glancy, Assistant Principal
"LEAD contextualized the roles and responsibilities of school leaders within the district's leadership framework while also exposing aspiring leaders like myself to Central Office leaders and resources. That exposure and access has opened many doors and has come into quick use as a first-year Assistant Principal to meet many on-demand, on-time needs."